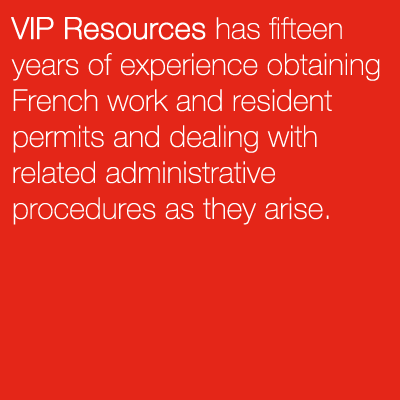 VIP Resources has fifteen years of experience specializing in obtaining French work and resident permits and dealing with related administrative procedures as they arise.
VIP Resources is located in Paris and works with the French Administration in the Paris region. Our network of partners throughout France allows for on-site assistance under our guidance as and when required.
When an employee is being transferred to France by his employer, an individual is planning to move to France to take up employment with a French employer, an individual is moving to France to set up a French company or his own  self-employed activity, he must adress obtaining work and resident permits as one of his first considerations.
Retirement to France also requires immigration assistance (as well as income tax, estate tax and wealth tax planning, and often involves residence acquisition.)
We can assist with all aspects of French immigration and administrative procedures. Our long-standing partners can assist with home and school search, legal and fiscal matters.
We chose the name VIP Resources for Visas, Immigration & Permits.  For us it is not a coincidence that VIP also stands for Very Important People.  Our clients are of primary importance to us and this emphasis is reflected in the quality of our ongoing services from beginning to end.